From Words to Action: Implementing Inclusive Policies in Your Business
Oct 10, 2023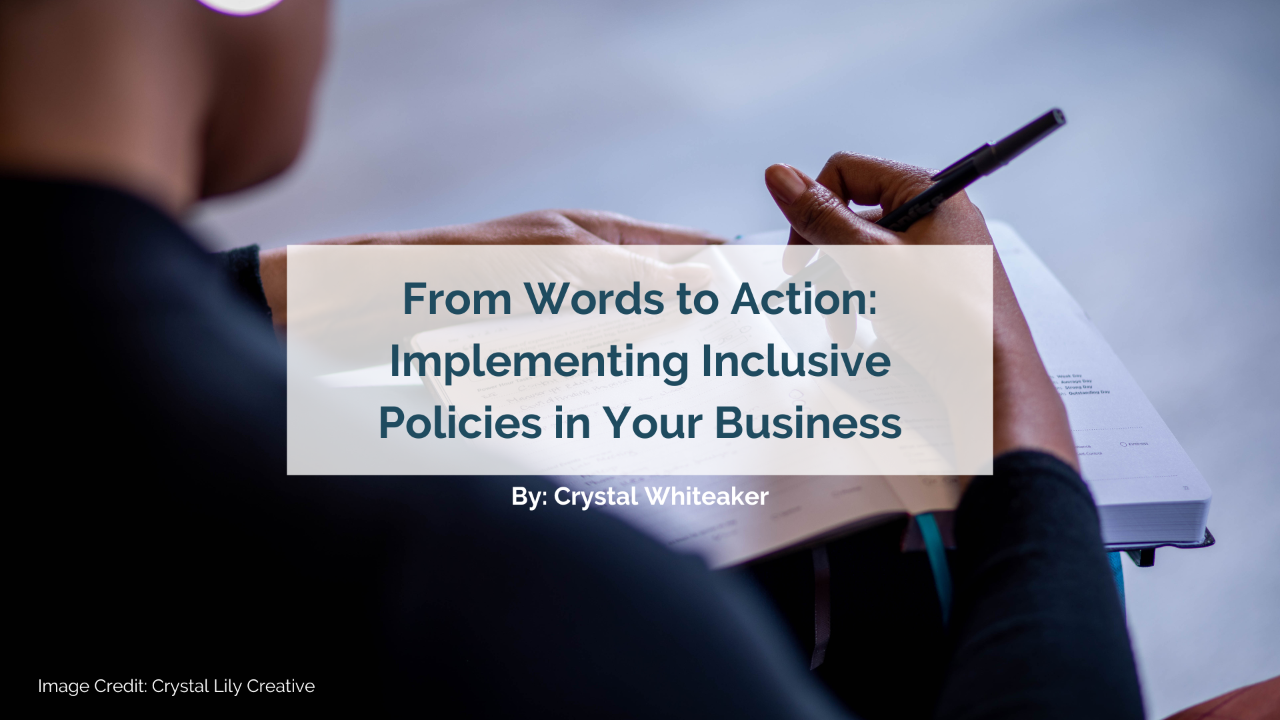 Inclusion is no longer just a buzzword. In today's world, it's a crucial element of successful businesses. The world and our societies are changing fast; diverse cultures and backgrounds come with different perspectives, which can enrich your work environment and improve your bottom line. It's important to understand how to turn great inclusive ideas into action for your business, while honoring the contributions of diverse team members.
Define Your Inclusive Vision and Values
The first step in creating a more inclusive environment within your business is to define what inclusion means to you. Decide what values and goals you want to achieve through your actions. This involves examining your beliefs and commitments you're willing to make related to supporting people regardless of race, ethnicity, gender identity, sexual orientation, disability, and other historically marginalized identities. Invite your employees to be open and honest about their experiences and concerns. Setting these values and goals will create a foundation for inclusion in all aspects of the company.
Implement Policies That Promote Inclusion
After you've identified your inclusive values, it's time to implement policies to put them into action. Some examples of these policies include flexible work schedules, equal pay, and promoting diversity in every company department. You can also include specific training for your employees to increase their awareness and knowledge of creating and maintaining a more inclusive workforce.
Create a Safe Environment for Your Team
Creating an environment where all team members can feel comfortable and confident to express themselves at work is crucial in enabling your team to reach their full potential. Inviting and supporting diversity initiatives must be a top priority for all team members. However, it's important to recognize that, despite the best intentions and policies in place, team members may still face discrimination in subtle and obvious ways. To address these situations effectively, it's important to establish an open-door policy that allows team members to address issues safely and appropriately.
Measure Your Progress
Once you've taken all the necessary steps, measuring your progress is essential. By constantly reviewing and evaluating the effectiveness of your policies, you can monitor how inclusive your business is becoming over time. You can do this through employee feedback, surveys, or quarterly department reviews. Additionally, celebrate the progress of your inclusivity efforts and acknowledge and appreciate your diverse team members' contributions.
Be Transparent About Your Efforts
Lastly, it's essential to be transparent about your efforts. Include your diverse workforce in promoting your policy changes, and showcase them to customers and potential clients. Being transparent is vital to creating a positive and inclusive mindset, both internally and externally.
Creating an inclusive business is not just a matter of words. It requires action! Implementing sustainable policies prioritizing the safety and inclusion of everyone in the workplace creates a happier and more comfortable environment for all, leading to higher productivity and a stronger bottom line. But remember, incorporating inclusive policies should be done from a human-focused perspective, first. If your only motivator is to improve your bottom line, then your efforts will be performative and cause more harm. So, let's practice genuine inclusion, value our team members, and enjoy the benefits of a diverse and inclusive business in the long run. Small actions can make a big difference in creating a positive and welcoming work culture that benefits everyone.
Download our free guide: How to Create An Inclusive, Aligned Brand Statement to incorporate a welcoming invitation through your messaging.
Stay connected!
Join the Aligned Values mailing list to receive updates and tips about mindful, inclusive business and leadership practices.
Don't worry, your information will not be shared. Crystal Lily Creative will never sell your information, for any reason.